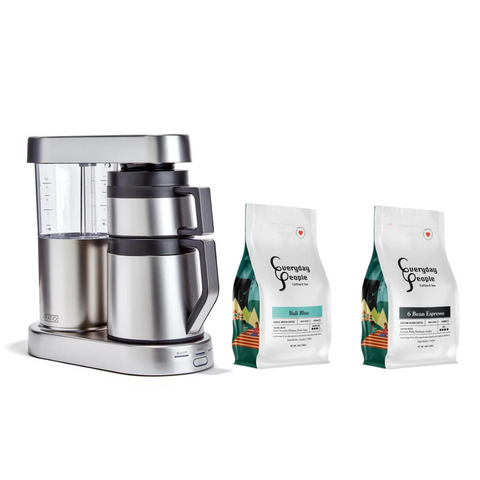 Everyday People Coffee & Tea
The Ratio Six + Top of The Morning Coffee Bundle
Bali Blue Single Origin - Medium Dark Roast (Type)
Six Bean Espresso Custom Blend- Dark Roast (Type)
Ratio Six Coffee Maker (Color)
The Ultimate pair combined Now for a limited time purchase the Ratio Six Coffee Maker and our Top of the Morning Coffee Bundle. In this bundle you'll receive 
Top of the Morning" bundle 
This bundle consists of our two specialty blend high caffeine coffees. In this bundle you will receive the following (2) 12(oz) Ground or Whole Bean coffee 
Bali Blue : This is a medium light roast custom creation high caffeine house blend. Specifically geared towards anyone that needs that extra boost in the morning ( or evening!).  This blend is created with arabica beans from Tanzania with robusta Indian beans to create this high caffeine coffee. 
 6 Bean Espresso:  This custom created dark roast house blend; specifically intended for espresso includes a moderate mixture of acidity and a fruity flavor blend from Kenya and Ethiopia. Indonesian robusta beans are added for an even crema, with a blend of Central and South American beans for a smooth complete finish. This blend is mostly created with Arabica beans with the addition of Indonesian Robusta beans for an added bonus of extra caffeine.
The Ratio Six Coffee Maker
Engineered with the same brewing accuracy as the Ratio Eight, the Ratio Six Coffee Maker is the perfect choice for those seeking one-button convenience, a smaller form factor, and a more affordable cost. The machine is BPA-free, boasts an auto-sealing thermal carafe, a broad showerhead for even flavor extraction, and bears the Specialty Coffee Association's seal of approval as an SCA Certified home brewer.
What's Included
Ratio Six Coffee Maker
Ratio Six Thermal Carafe + Filter Basket
Lid for Filter Basket with Heat Shield
Catcher for Filter Basket
Ratio Microfiber Towel
Basket Paper Filters - 4 sample filters
Operation guide
Removeable power cord