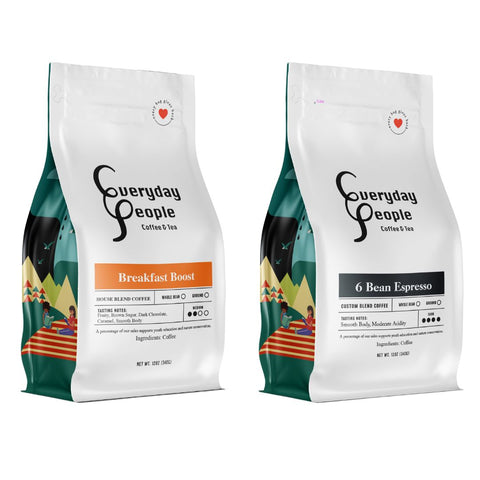 Everyday People Coffee & Tea
The Specialty Blend Coffee Bundle
The Specialty Blend Coffee bundle is perfect for coffee lovers who want to experience a unique and flavorful cup of coffee. This bundle features two  varieties of speciality coffee blends that are carefully crafted to provide a rich and delicious taste.
Each coffee blend in this bundle is made from high-quality coffee beans sourced from different parts of the world. The beans are roasted to perfection to bring out their unique flavors and aromas. The result is a cup of coffee that is full-bodied, smooth, and bursting with flavor.
In addition to their delicious taste, these coffee blends are also ethically sourced, ensuring that the coffee farmers are paid fairly for their hard work. So, if you want to enjoy a delicious cup of coffee while supporting ethical practices, the Speciality Blend Coffee bundle is the perfect choice for you.
In this bundle you will receive the following (2) 12(oz) whole bean coffee 
Breakfast Boost : A perfect way to start your day! This house blend coffee is carefully crafted to provide a delicious and energizing morning pick-me-up. The aroma of this coffee will fill your senses with rich and inviting scents, setting the perfect tone for your day.
Roast Level: Medium
Tasting Notes: Fruity, Brown Sugar, Dark Chocolate, Caramel, Smooth Body
 6 Bean Espresso:  This custom created dark roast house blend; specifically intended for espresso includes a moderate mixture of acidity and a fruity flavor blend from Kenya and Ethiopia. Indonesian robusta beans are added for an even crema, with a blend of Central and South American beans for a smooth complete finish. This blend is mostly created with Arabica beans with the addition of Indonesian Robusta beans for an added bonus of extra caffeine.
Roast Level: Dark Roast  
Tasting Notes: Smooth Body , Chocolate, Earthy and Nut